Podcast: Play in new window | Download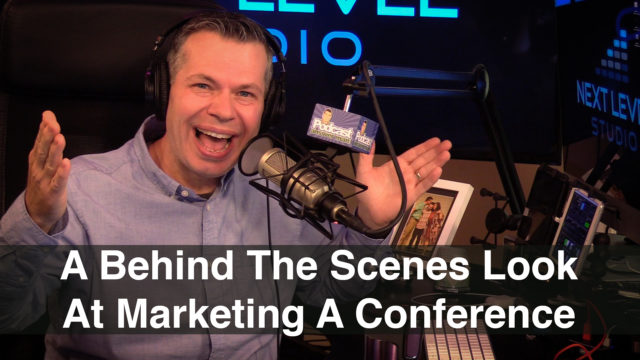 Have you ever had a crazy dream?
A dream that seemed so impossible, but no matter how the mere thought of going after scared you, it simply would not go away?
Several years ago, I had a dream of hosting a live conference.
Not just any conference.
My dream was that I was going to host a conference, IN A STADIUM, where tens of thousands of people would come to hear me speak.
I seriously had no idea where this dream came from.
At the time, I wouldn't have considered myself to be that much of a powerful communicator when it came to "pubic speaking, on a stage, in front of a live audience."
For the life of me, I couldn't imagine anything that I, personally, could ever share at such a conference that would attract an audience of that size.
But this dream never went away.
It was weeks before I ever spoke about this dream to my closest friends.
Of course they encouraged me. The told me that they could see that happening.
But those were just my closest friends who have always saw much more potential in me than I had ever seen in myself.
Their encouragement, however, was starting to impact my own beliefs about this dream.
It took months before I ever spoke about this dream to those outside my "inner circle."
I'll never forget the night, February 2016, that I sat in the living room of some friends that I had just met for the very first time in Auckland, New Zealand.
I was in New Zealand on an all-expenses paid, ten day, trip to New Zealand as a Keynote Speaker for the first ever Asia Pacific Podcast Conference hosted by my friend Paul Spain.
Some friends, that I had met at the event, had invited myself and Paul over for dinner. As we sat in their living room, someone asked me…. "What's next for Cliff Ravenscraft?"
I nervously told them about my dream of hosting my own stadium event.
I was shocked to hear the words of every person in that room as they told me how much they were 100% certain that dream would be fulfilled.
Not only that, but every person in the room had committed that they, themselves, would be buy a ticket to my first, ever, stadium event.
Over the following months I began to tell others.
A majority of the first 100 people that I had shared my dream with had the same response as the small group in New Zealand.
I began to think to myself… Wow! If I could just have this same conversation with 49,900 more people, I'd have a completely sold out stadium event.
Keep that statement in mind when you follow the rest of the content that I'm about ready to share with you. You'll have a greater understanding of why I've been so drawn to one particular method of marketing the Free The Dream Conference.
It wasn't until June 2016 that I began to have a grasp about the type of content that I would share a conference that I would host.
It was at that time that my wife, Stephanie, and I attended an Unleash The Power Within event in Dallas, TX, hosted by Tony Robbins. There were approximately 10,000 people at this event.
This one weekend had a powerful impact in my life. I experience a large number of major mindset breakthroughs in a single weekend and my life has not been the same since.
Stephanie and I gave a full review of that experience in episode 456 of this podcast.
Over the next two years, it became more and more clear to me that a number of people in my community would not want to attend a Tony Robbins event, but would attend an event with the same transformational outcome if I were to host it.
I went to work and immersed myself in the studio of want I wanted to offer at my own event.
I invested more than 10,000 hours over two and a half years, studying mindset and business success tips, tools, techniques and strategies from Tony Robbins, Jim Rohn, and a large number of other folks who had devoted their lives to this type of work, to develop the Free The Dream Core Message.
I started small by hosting some live workshops in our Next Level Studio space. Once I had successfully sold out several workshops, I had the confidence needed to host our very first Free The Dream Conference in September 2018.
I took the biggest risk that I'd taken since leaving my career as an insurance agent back in January 2008, by launching the Free The Dream Conference.
I had NO IDEA how to much a conference.
I had desire to have 300 people attend that first event.
I didn't hit my goal.
However, 87 people did attend!
Of those 87, one person traveled all the way from France and another all the way from Germany.
And then…. What happened at that very first Free The Dream event was beyond what I could have ever imagined!
The video below shows the genuine emotions that I as experiencing the week following the event.
Since the very first recollection of this dream of hosting stadium events, I've come a long way.
I have hired a number of speaking coaches and I've gone to four professional speaking development workshops to help me take my public speaking skills to the Next Level.
Today, I do actually consider myself to be a powerful communicator on a stage in front of a live audience.
In fact, when I step on a stage, in front of a live audience, today, I feel more at home there than anywhere else. Something inside of me just "comes alive."
Today, I am 100% confident that this dream was meant to lead me to develop the Free The Dream message.
I know, with all of my being, that I was created to share this message with as many people who will be willing to hear it and apply it to their lives.
I feel DRAWN toward filling stadiums with people who are ready to break free from everything that has been holding them back from living the life of their dreams.
I must admit, I still have a lot of personal and professional growth to go through, myself, before I fill a stadium.
However, I'm taking consistent steps forward toward that dream.
I'm writing these words with only 62 days until the second annual Free The Dream Conference.
I'm still trying to figure out how to successfully market a conference such as this.
In this podcast episode, I pull back the curtains and share a behind the scenes look at what I'm doing to market Free The Dream 2019 with the time that I have remaining.
A Newsletter You'll Look Forward To
If you sign up for my newsletter, I promise to send you valuable thoughts, insights, tips, techniques and strategies that will help you take your message, your business and your life to the next level.