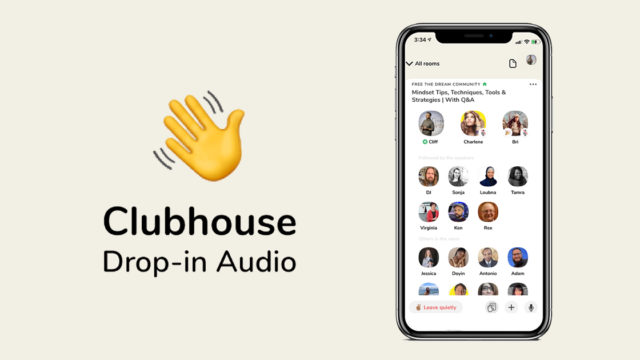 I've always been an "early adopter" to new technologies, especially those that allow for communication of ideas and social interaction and engagement around those ideas.
Every now and then, there is a new form of technology that stands out among all the noise out there and that has the power to radically shift the way that humans engage with one another in a powerful and positive way.
I believe that the Clubhouse App is the greatest new form of social media that has been created since the creation of "podcasting."
Yes, admittedly, I am biased as someone who prefers to create and consume content in the "spoken word" format. However, even those who typically prefer to create video content (both pre-recorded and live streaming) are flocking to Clubhouse on a daily basis as well.
What Is Clubhouse?
One way to describe Clubhouse is as an audio only social media application that allows people from all over the world to have real-time conversations on any topic at any time.
Clubhouse, at times, serves like a conference where you can go into rooms and hear speakers teach on a wide variety of topics. I'm filling entire notebooks with valuable insights that I've discovered by being in rooms on Clubhouse.
Clubhouse rooms have, at times, been like the "hallway conversations" with people that you see at a conference, where you get to meet someone for the first time or to catch up on what's been happening since the last time you connected.
There are so many other fascinating and unique aspects of Clubhouse that will become obvious should you decide to engage on this platform.
If you desire a more thorough review and description of the platform, I'd highly recommend the following three articles that have been produced by my friend Michael Stelzner and this team at Social Media Examiner:
– Why Clubhouse App Might Be the Next Major Social Media Platform
– Clubhouse App: How to Get Started
– How to Start a Clubhouse Room and Moderate Like a Pro
Why Am I Going "All-In" on Clubhouse?
I'll never forget the date, December 16th, 2006. That was the day I published my very first podcast episode. Within a few months of publishing that first episode, I had made the decision to go "all in" on audio podcasting for getting my message out and serving others in the world in my own unique way.
That decision to go "all in" on audio podcasting turned out to be an incredibly powerful decision that radically altered the entire trajectory of my journey through life.
Similarly, I believe that I'll remember the date December 9th, 2020 which was the first day I had ever logged onto the Clubhouse App.
By the way, I am @CliffEOTC on Clubhouse
Within my first three months, I have already developed what I am assured will be life-long, meaningful, relationships with at least 20 new people who I had never heard of and who had never hear of me prior to using the Clubhouse App. I'm talking about the type of relationships that you might recognize as "Divine Appointments," as if these people are those whom I'm "supposed to meet" to carry out some next part of my mission on this planet.
These connections mean far more to me than the nearly 9,000 new people who are "following me" on Clubhouse within my three months. However, that is not diminish, in any way, the incredible honor that it is to have thousands of new individuals who are interested in the insights that I might want to share on this platform.
I've created a "Club" (think of this as being like a Facebook Group) for the Free The Dream Community on the Clubhouse platform. Hosting rooms on Clubhouse under the Free The Dream Community club, the Free The Dream Community already grown to well over 3,500 members in under three months.
The best part is that more than 80% of those who are now members of the Free The Dream Community had never heard the name Cliff Ravenscraft prior to Clubhouse.
In all my years of creating online content (I started blogging in 1996 before it was ever called blogging), I have never seen audience growth like this since the early days of audio podcasting.
While I am still very much in love with audio podcasting, and have big plans to continue creating audio podcast content into the future, there are a number of benefits that I enjoy even more from the Clubhouse platform.
To learn more about these additional benefits, I encourage you to listen to episode 232 of my Train With Cliff Podcast where I give a complete walkthrough of how this app works and how I have been using the application.
How Am I Going All In on Clubhouse?
I'm in the early stages of creating a "strategy" for how I plan to use Clubhouse. However, I am going to share with you what I have planned so far.
Regularly Scheduled Rooms:
I know the value of letting people know, ahead of time, when and where they can engage with you. For this reason, I'm currently committed to hosting/moderating three rooms on Clubhouse every week on the following days/times.
– Every Monday 7pm to 9pm Eastern Time
– Every Wednesday 6:30pm to 8pm Eastern Time
The title/topic of the room to be determined each week. These rooms will be a mixture of topics related to Identity, Purpose, Dreams/Goal Fulfillment, Mindset, and other Personal/Professional Development. Many of these rooms will also provide an opportunity to "Ask Me Anything" where I can serve you and others in the room through live coaching.
Notification of Random Room Engagement:
I plan to participate in a number of other powerful rooms that are hosted by others, regardless if I'm a moderator or even a speaker in the room. While there is no shortage of "fluff" on Clubhouse, there are certainly a few gems that I have come across. Again, I've filled many pages of my journals with insights I've gained from random rooms on Clubhouse.
Occasionally, I'll have some free time outside of my regularly scheduled rooms where I might quickly launch a room for anywhere from 15 to 90+ minutes with little to no advanced notice. While these rooms tend to have a much lower attendance, some of the most meaningful and powerful conversations that I've had on the platform, or even in life in general, have happened in these impromptu rooms.
While the application has a robust "notification system," I find it to be lacking in many ways.
For this reason, I'm currently using the "Telegram App" to send out my own, personalized and custom, notifications of when and where I can be found inside the Clubhouse App. If you are are interested in receiving thse notifications, please follow the following steps.
1. Install the Telegram App and setup your free account.
2. Go to http://MindsetAnswerMan.com/notify
3. Click "view in app" and then Subscribe to the "Cliff on Clubhouse" channel.
Once subscribed, you'll receive all of the notifications that I personally create to announce what I'm up to on Clubhouse on any given day.
All In on an iOS Only App?
As of Saturday, March 6th, 2020, Clubhouse is an iOS only platform. However, within a few weeks, there should be a release of an Android version. If you don't have an iPad, iPhone or late model iPod Touch to access the app, be patient, I promise that once this app becomes available on the Android platform, you'll very quickly understand what all the hype has been about. Or not…. Time will tell.
At any rate, I'll certainly be found on Clubhouse quite a bit for the foreseeable future.
Hope to potentially connect with you there.
Sincerely,
Cliff
A Newsletter You'll Look Forward To
If you sign up for my newsletter, I promise to send you valuable thoughts, insights, tips, techniques and strategies that will help you take your message, your business and your life to the next level.