When it comes to podcasting equipment and actual podcast production, I've come a long way. Back in December of 2005, I started podcasting, as a hobby, with a cheap (less than $40) Logitech headset with microphone off to the side and free recording software running on my laptop computer. Back then it took me hours to produce a single podcast.
More often than not, I was plagued by improper audio levels, hums and hisses in the background, or hours of lost content due to software issues.
Today, I've produced well over 2,400 of my own podcast episodes and I am happy to announce that out of the last 2,300, I've only lost one single episode. Not only that, but I've learned how to get perfect audio levels 100% of the time.
Here's My Current Studio Setup
The following images show the latest redesign on my studio as of October 2010. This redesign actually took three days to complete. Just below these images, you will see a time lapse video that I put together. If you pay close attention, you'll see where it's night, daylight, and then night again.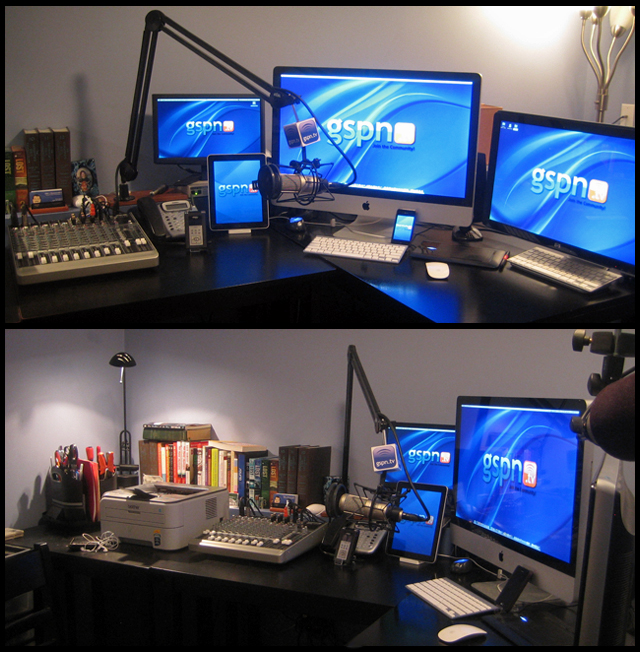 This video is a time lapse of my latest studio redesign:

Here Are Some Photos From My Podcasting Journey
In the following photo, you will notice three computers. Back in the corner to the left was an old windows desktop that was used for recording only. The laptop to the right of that computer, up against the wall, was dedicated to Skype for our very first show with Skype co-hosts. We had five co-hosts from around the world. On the table you see my laptop that I used to queue up audio clips.
If you look even closer, you'll see my Sharp MiniDisk recorder that I used as a backup audio recording device. Oh how I cringe to see those MXL 990 condenser microphones. If you don't know this about me already, I hate condenser microphones for studio recording!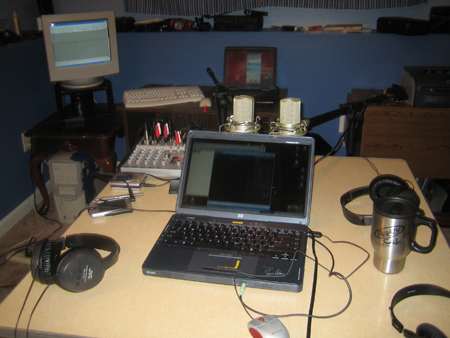 ---

Oh my goodness. I remember the night shown in this photo (early 2006) as if it were yesterday. As you can see, I didn't always have a room in my home dedicated to studio space. Would you believe it took me three hours to get everything set up and sound checked before I could go live with this broadcast. It was my very first ever live show where we had a live internet audience. We recorded for about two hours and had a two hour post show discussion. I am very close friends, today, with people I met, for the first time, the very night this photo was taken.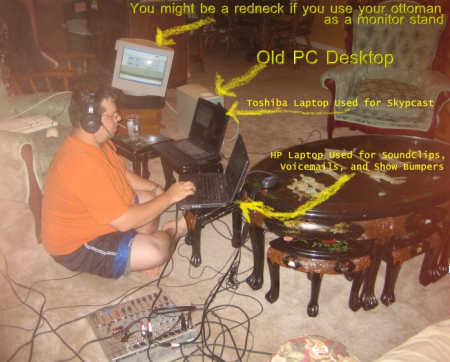 ---
This next photo was my first dedicated studio space. I was given one corner of the family room. I did a lot of podcasting in that little corner.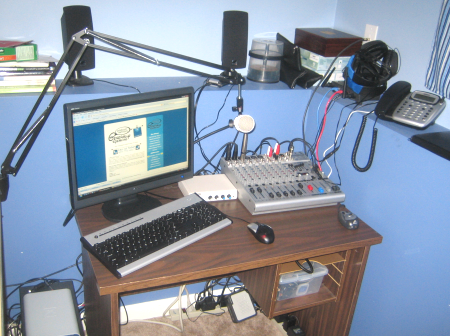 ---

Okay, so by the time this photo was taken, it was obvious that podcasting was becoming more than a just a hobby for me. I had convinced Stephanie that I needed to take over 50% of our downstairs family room.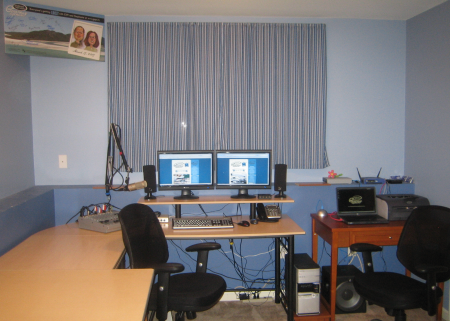 ---
See the wall behind my desk chair? That was when I convinced Stephanie that the studio needed it's own room in the house. The only problem is that there was not an extra room in the house to devote to podcasting. The only logical step was to create one. We took our family room, which took up the entire length of our home, and cut it in half by putting up this wall.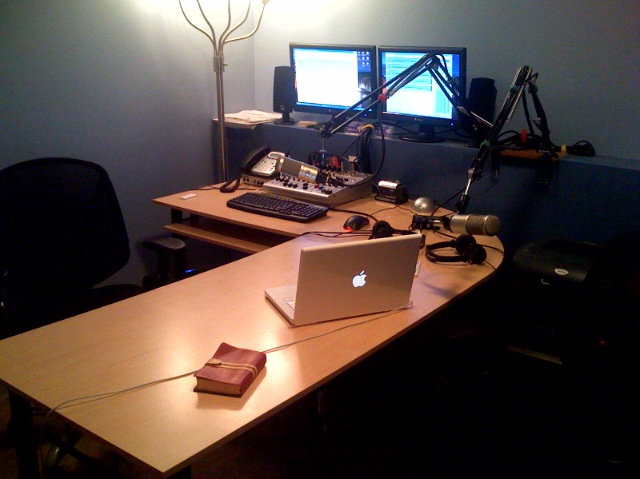 ---

The week this wall went up, I knew that there was no turning back. At this point, I knew that I eventually wanted to go into podcasting full-time as my career. And well, here I am today, sitting in front of that wall making more money than I've ever made before in my life. Every day I wake up and sit in front of this wall and do what I love for a living! And I try to remember to thank God every single day for this blessing!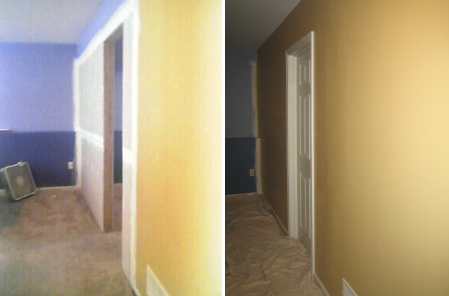 ---
For those of you who enjoyed the time lapse video above, here's the video I did back in December of 2008. As you can see, I've made the complete switch from Windows to Mac in the past two years.
---

Well that was fun, going down memory lane. I hope this page helps people understand that my journey into podcasting as my career didn't happen over night. As I write this, it's been five years. An amazing five years. The best part is that I have all this experience to share with my clients. If you would like to avoid all the costly mistakes that I've made and teach you what I've learned, check out my various podcast tutorials by clicking here.
A Newsletter You'll Look Forward To
If you sign up for my newsletter, I promise to send you valuable thoughts, insights, tips, techniques and strategies that will help you take your message, your business and your life to the next level.